Learn English > English lessons and exercises > English test #424: Hurricane Jeanne hits Florida


Hurricane Jeanne hits Florida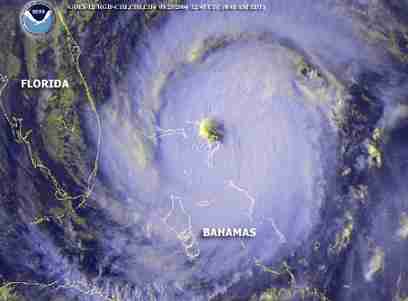 Hurricane Jeanne Devastates Florida, Haiti
Charlene Sarmiento
27 Sep 2004

Voir la vidéo Grand format (connexions rapides) | Voir la vidéo petit format (connexions lentes)


President Bush has declared a state of disaster in the southern U.S. state of Florida, which has been hit by four hurricanes in the past six weeks. Mr. Bush acted late Sunday after Hurricane Jeanne hit Florida's central Atlantic coast. Charlene Sarmiento reports.
Hurricane Jeanne tore apart homes, knocked down utility posts and dumped heavy rain across Florida, after making landfall on the state's east coast late Saturday.
Jeanne was downgraded to a tropical storm, as it moved through western Florida later Saturday. More than one million people in Florida are without power and National Guard troops are taking part in relief operations. Florida governor Jeb Bush warned that recovery efforts may be hampered by flooding.
Total damage in Florida from the four hurricanes is in the billions of dollars.
Jeanne's worst effects were felt in Haiti, where more than 1500 people died last week in floods and mudslides. U.N. officials estimate that a quarter of a million people are homeless and officials are struggling to provide relief supplies. Unrest and damaged roads continue to hamper relief efforts. Crowds have overtaken some aid vehicles and ransacked supplies.





Twitter Share
English exercise "Hurricane Jeanne hits Florida" created by webmaster with The test builder. [More lessons & exercises from webmaster]
Click here to see the current stats of this English test



Please log in to save your progress.
---
End of the free exercise to learn English: Hurricane Jeanne hits Florida
A free English exercise to learn English.
Other English exercises on the same topic : The weather | All our lessons and exercises