Log in!


Click here to log in
New account
4 million accounts created!
JOIN our free club and learn English now!


GREAT!
Get a free English lesson every week! 2 MILLION subscribers!
Click here!
Partners:
- Our other sites
Learn English > English lessons and exercises > English test #801: Route 66


Route 66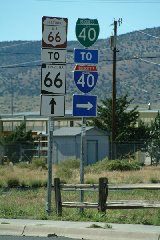 This highway was the most traveled road in the United States during the nineteen-twenties and thirties. It stretched from Chicago, Illinois, to the Pacific Ocean in Santa Monica, California. Because it was so heavily traveled, it became known as "the people's highway.'

A businessman in Tulsa, Oklahoma helped create the identity of Route Sixty-Six. Cyrus Avery headed the Oklahoma state highway committee. He also helped plan America's national system of numbered roads. Mister Avery proposed that a federal road be built from Chicago to Los Angeles along a southwestern path.

The government approved his proposal and named the road in nineteen-twenty-six. Mister Avery also started a special organization to support the road called the U-S Sixty-Six Highway Association. The group gave the road a special name -- "Main Street of America."



American writer John Steinbeck called Route Sixty-Six the "Mother Road" in his book "The Grapes of Wrath." Hundreds of thousands of people traveled this Mother Road during the Great Depression of the nineteen-thirties. They left their homes in the middle of the country and traveled west in search of work and a better life.

Route Sixty-six was a flat road. Travelers could use it during any season of the year. This led to an increase in long-distance trucking in the United States. By the nineteen-thirties, trucks were transporting goods on Route Sixty-Six. So were farmers. By the nineteen-forties, military vehicles had also increased traffic on the road.

In nineteen-forty-six, songwriter Bobby Troup drove to Los Angeles along Route Sixty-Six. During the trip, his wife Cynthia suggested that he write a song about the famous road. Bobby Troup wrote the music and most of the words while he and his wife traveled from town to town. When he reached Los Angeles, he performed the song for Nat King Cole, who made it famous. Here is Nat King Cole singing the song "Route Sixty-Six."







Twitter Share
English exercise "Route 66" created by webmaster with The test builder
Click here to see the current stats of this English test



Please log in to save your progress.
---
End of the free exercise to learn English: Route 66
A free English exercise to learn English.
Other English exercises on the same topic : USA | All our lessons and exercises