Learn English > English lessons and exercises > English test #105563: 'Make someone do'/'Have something done': (a little further)


'Make someone do'/'Have something done': (a little further)
To MAKE someone DO something .../ To HAVE/GET something DONE ...
In English, when a person wants to express the idea that someone's working for him/her (somebody is making someone do something, or that someone is getting/ having something done,) he doesn't realise the predicament a French person is in. It may be the same in other languages ... (I've noticed many Non-French-speaking Learners make the same mistakes as French people ...) Let's compare:
1) Antony made his sister work.
2) Antony had his young sister driven home.
In sentence 1, the verb in the infinitive has an active meaning: The young sister has acted! She has worked!
In sentence 2, the verb in the infinitive has a passive meaning: The young sister has endured the action! She was driven home.
Once that distinction between active and passive has been made and understood, things are becoming much simpler!

➡️ 1) With an active meaning, use 'TO MAKE someone DO' : => to make someone do something = to make + object + infinitive without to

eg. The sauna makes your skin look beautiful.
eg. To make us lose weight, they starve us. (to starve = not to feed= not to give food.)
eg. Paul made Chris come too late = Chris is the object of 'make' and the Subject of 'come'.
The subject of the sentence and of the main verb (make) is initiating the action, but not doing it himself/herself.

In the United States, and in other countries, or regions, 'make' is often replaced by 'have' in that construction : He had his brother come too late.


The construction with 'to make', often implies a coercive nuance :
eg. I will make you work! (= Otherwise you wouldn't!)




In the passive form, this construction needs a complete infinitive => to be made to do something
eg. He was made to hand over the money. = He was forced to give the money back.


➡️ 2) With a passive meaning use TO GET/HAVE something DONE: = Subject + get/have + object + past participle
eg. My parents got the living room repainted.
eg. She had her hair cut.
In these two sentences, the actions were passive: The living room was repainted. The hair was cut. The actions were really endured.
The attention is focused on the action and its result.
eg. Mom will have her dishwasher fixed because Dad can't do it himself.

eg. In my village, they had a new school built.
eg. I will have/get my car repaired as soon as I have enough money.


➡️ 3) Many cases are exceptions... (alas!) and will have to be learnt because they don't obey the 2 rules!
eg. to grow flowers or vegetables ; to keep somebody waiting ; to be run over (by a car); to get oneself invited ; and especially :
to make oneself understood/ heard/ obeyed/ respected ...
Now, it's your turn to decide whether you'll use one expression or the other in the following sentences ... Go for it!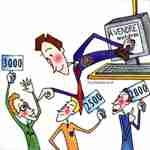 Twitter Share
English exercise "'Make someone do'/'Have something done': (a little further)" created by here4u with The test builder. [More lessons & exercises from here4u]
Click here to see the current stats of this English test



Please log in to save your progress.
---
End of the free exercise to learn English: 'Make someone do'/'Have something done': (a little further)
A free English exercise to learn English.
Other English exercises on the same topic : To have someone do something | All our lessons and exercises