Learn English > English lessons and exercises > English test #105628: What about suggesting ...


What about suggesting ...
Here is something that we often have to do : Suggest ! Give ideas and opinions for people to do something, to go somewhere , or do whatever ...
When they're young, children often 'play' situations : ' We'd say that ...' or : ' and what if we were (are) ...'. These situations are 'imagination' more than 'suggestions', but it's often the same to them ...


That's when I witnessed such a situation that I realized the huge number of expressions that we have to suggest in English.
The different phrases are not of the same 'level of language', they wouldn't be used indifferently in the same situations, some are rather 'spoken', others are more 'written'.
I'll introduce them in an 'increasing order' ... the first ones being rather used in conversations ...

1) What if ...? This form of suggestion is used in spoken language.

ex : What if he goes shopping with us, for once ?
Here the suggestion is possible, realizable. It obeys the same rules as for 'the propositions in if' or 'if clauses'. 'If' is followed by 'an indicative mode' because it describes a possible hypothetical and realistic suggestion.
ex : What if he holds your hand while you're walking on the rope ? You won't be scared, will you ?
Already more sophisticated, the 'unreal' version of the suggestion, the modal preterit shows that the realization of the action is still a hypothesis :
ex : What if he held your hand while you were walking on the rope, you wouldn't be scared, would you ?
According to some dictionaries and forums : 'What do you say if we go after all... ' or 'What do you say to a good swim in the lake ? ' would be sentences which are often heard in the USA, especially if the suggestion has already been made before. Similarly, a conditional could be used to make the suggestion more hypothetical ...
ex : 'What would you say if we went after all ?'
2) 'Do you fancy doing ...?' or 'How do you fancy ...?' (quite informal and oral)

ex : Do you fancy a round of golf tomorrow morning ? / How do you fancy a round of golf tomorrow morning ?
These expressions would rather be used in Britain, the USA prefering : 'Would you like ...? ' or 'Do you feel like ...?'
3)'What about ... N/V+ing ?'/ 'How about ... N/V +ing ?' These phrases are extremely used to suggest ideas (in the oral, at least)...

ex : How about going to the swimming pool right now ?
ex : What about going to the skating-rink instead ?
ex : What about a good dive in the lake ?
According to some grammar books, sites, and forums, the two expressions are almost equivalent, but 'How about ...?' would tend to be used with 'yes and no questions', whereas 'what about ...?' would rather be used to bring up topics for general discussions.

4) 'Why don't we + infinitif sans to ?' This is the favourite expression used by French students to express a suggestion ... ( familiar and standard style).
ex : Why don't we have pizza instead of fish ? Why don't we go to an Indian restaurant instead ?
5) 'Why do it ?/Why not do it ?' The level of the language used is standard, even a little elaborate, without being really formal. It can be used in written language.
Very often, in 'Rewriting exercises', the prompt 'Why', is given in the hope of getting this structure, but the preceding one is practically always given. Anything added to the prompt to make the requirement 'clearer' comes, (alas !) to a mistake in the construction ...
REMEMBER : WHY/WHY NOT + infinitive without to.
6) 'Shall we ...?'
This interrogative form of the future is used in the first persons (singular and plural) . It's used in an elaborate conversation and can be written. It expresses a polite suggestion, without being 'snobbish' or formal, at least in Great Britain ... (depending, of course, on the intonation and the tone used ...)

ex : Shall we go out, now ? I need a breath of fresh air ...
7)* 'I suggest ... + Noun' or 'I suggest +V+ ing' are quite frequent and informal.

+ Noun She suggests another explanation to his absence
doing...' : I suggest doing things differently

** he do...' :This form (in the 3rd person) is used in written language and in formal style. It can also be used in some formal conversations. It is the English subjunctive (which is made of the verb used for all the persons - therefore, it's only 'noticeable' in the third person singular.)
In the United States, 'I suggest (that) you do', is currently used in conversation. There, the subjunctive is much more used than in Britain (where it is said to just be 'coming back' in recent years.)
ex : I suggest (that) you answer right away !
In Britain, the structure, 'I suggest you should do ' is quite formal (the use of the modal should is another form of the subjunctive).
ex : I suggest you should think twice before buying this new car.
ex : I suggest (that) you give an answer immediately !
ex : I suggest (that) he help you ... You can't do that by yourself !
Now, it's your turn to have a lot of ideas and to choose the good means to suggest them !

In the following exercise, we're going to attend a strange lesson ! It must be said that the students are quite excited, and 'ready for their holiday' ... !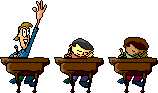 Twitter Share
English exercise "What about suggesting ..." created by here4u with The test builder. [More lessons & exercises from here4u]
Click here to see the current stats of this English test



Please log in to save your progress.
---
End of the free exercise to learn English: What about suggesting ...
A free English exercise to learn English.
Other English exercises on the same topics : Speaking | Tales | Suggesting | All our lessons and exercises