Learn English > English lessons and exercises > English test #105732: Infinitive, continued !


Infinitive, continued !
As we have seen in lesson 105721 test the infinitive clause is built following this construction :
SUBJECT + VERBE 1+ COMPLEMENT + COMPLETE INFINITIVE of Verb 2 (the complement is the subject of verb 2)
I WANT HIM TO HELP ME.
We have studied how to build this clause with verbs of willpower, order, preference, and refusal. Building to want, was especially problematic to you ... I hope you can do it easily now ...

ex : The students didn't want the teacher to give them a test ...
ex : The policeman ordered me to show him my ID.

ex : I'd prefer him to give me an answer immediately.

The INFINITIVE CLAUSE is also used :
1) To invite people to act (or not to act if the verb is in the negative) after many verbs : to invite - to advise - to allow - to permit - to enable - to help - to teach (how to) - to challenge - to encourage - to persuade - to ask - to require – to request - to beg - to implore - to urge - to press - to warn
ex : I advise you to revise your lesson before doing your exercises.
ex : Patricia's mother asked the kids to tidy up their rooms before going out.
ex : He implored/begged/urged his parents not to punish him this time ....
2) An infinitive clause is also used to express expectation, or to use verbs expressing confidence : to expect - to wait for - to depend on him to - to rely - to trust
ex : She expects you not to make noise while she's working.
ex : I'm waiting for you to come to meet me.
ex : The little boy relies on you to help him cross that dangerous road.
3)Some infinitive clauses do NOT depend on verbs :
* after expressions like : It's time (for them to ...) ; There's no need (for him to ...).
ex : There's no need for you to come with her ... She's old enough to come alone.
* to express a goal, a purpose (introduced by 'for'):
ex : I've left the window open for the cat to come in ...
* In 'impersonal expressions', used with 'for', following a great number of adjectives : it's difficult, easy, hard, impossible, important, natural, necessary, usual, unusual, vital ...
ex : It will be necessary for them to go to the Embassy right away.
ex : It's too hard for him to repeat what he doesn't understand.
ex : It's unusual for my sister to be up so early !
Ready ?

In the following exercise, we'll follow a fan's fight to get his ticket to a Dream Show on Broadway ...

I hope you'll find that easy ...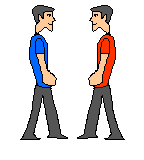 Twitter Share
English exercise "Infinitive, continued !" created by here4u with The test builder. [More lessons & exercises from here4u]
Click here to see the current stats of this English test



Please log in to save your progress.
---
End of the free exercise to learn English: Infinitive, continued !
A free English exercise to learn English.
Other English exercises on the same topic : Infinitive | All our lessons and exercises