Learn English > English lessons and exercises > English test #105787: Verbs of involuntary perceptions ...


Verbs of involuntary perceptions ...
Contrary to verbs such as 'to look at' and 'to listen to' which describe voluntary and intentional actions requiring effort to be done, 'to hear' and 'to see' require no decisions and will power. We often see or hear things by chance, without doing it on purpose ...
On the other hand, 'to feel', 'to taste', and 'to smell' can be voluntary OR involuntary verbs of perception, depending on the effort to be made in order to reach the result :
ex : I can smell chocolate ! Who's making a cake ?
ex : He could feel she was trembling ...

ex : This syrup tastes like lemon !
1) In the simple present, and in the simple past, they are built with 'can', the modal auxiliary in English :


BEWARE! Future translators, these modals are not to be expressed in French.
ex : Can you see the cute bird in the tree? No, I can't see it, but I can hear it very well ...
ex : I couldn't hear him, but he could hear us quite perfectly.
2) In the present and the preterite, verbs of involuntary perception have no constructions in - ing :(If they do, they change meanings ...)
ex : She 's tasting raw fish and says she doesn't like it.
This sentence describes a deliberate action and has nothing involuntary about it.
ex : I'm sorry, but I'm not feeling very well ... (refers to physical health.)
3)These verbs are built with 'a complement + infinitive without to' or are followed by a 'present participle'.
ex a : His father saw him cross the street very carefully and congratulated him for it !
In the first case, we want to insist on the whole action. (The boy's father saw him standing on the pavement on the other side, then, in the middle of the street, and finally, on this pavement.) Verb of involuntary perception + Complement + infinitive without to
ex b: I saw him pushing his young brother. That's why Paul fell down ...
Verb of involuntary perception + V in the present participle
In that second case, the boy was seen pushing his young brother. He was caught red-handed. We want to insist on the duration of the action or on an action which is being done.
4) 'See' and 'hear' can be followed by a past participle when the corresponding actions are endured.
ex : I saw him pushed right in front of a bus ...
ex : I heard the singer booed by his audience !
You're now ready to 'fight' with the exercise

! Don't be scared, you just have to think a little about what sort of effort you have to make to produce the action ...

and it will quickly become automatic !


I can hear the baby crying ! I'm listening to the band playing ...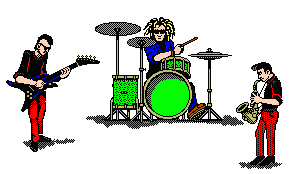 What he can see is unbelievable ! I'm looking at a clown juggling with coloured balls !

Twitter Share
English exercise "Verbs of involuntary perceptions ..." created by here4u with The test builder. [More lessons & exercises from here4u]
Click here to see the current stats of this English test



Please log in to save your progress.
---
End of the free exercise to learn English: Verbs of involuntary perceptions ...
A free English exercise to learn English.
Other English exercises on the same topic : Making portraits, describing | All our lessons and exercises