Learn English > English lessons and exercises > English test #109345: Choosing your past tense...


Choosing your past tense...
1) THE PRETERITE: is used to express the completed past ( the action is over), and is also the tense of narration. You just have to add - ed to the verb or to learn irregular verbs (!!!) in order to master it totally.

That's easy, isn't it!

ex : She closed the door, sat down, picked up the phone and dialed.
2) THE PRESENT PERFECT:
A) How to build it?
Affirmative Form : subject + has/have + past participle (= verb + ed or 3rd column of the irregular verbs)
Interrogative Form: has/have + subject + past participle + ?
Negative Form: subject hasn't/ haven't + past participle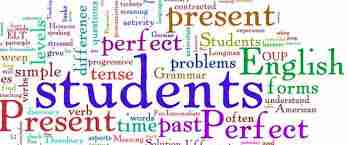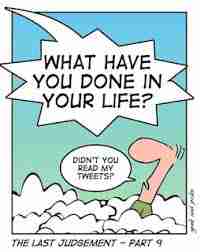 B) How to use it?
This tense doesn't exist in many languages; that's why foreigners find it so difficult to use...
- The action depicted has a relationship or a noticeable or an important effect in the present:
ex : Look, one of the boys has broken the window pane with their ball! ( there are pieces of glass on the floor.)
- It expresses the assessment of an action. The action is important, not the moment when it happened.
ex : 'Have you read Oliver Twist? Of course, I have!
- It's often used with: already, ever/ never, just.
ex : I have never met such an aggressive person!.
- This tense is often used with FOR ( duration), or SINCE (starting point) in order to show that the action is still in progress in the present and has a duration, then the -ing form of the present perfect is used : subject + HAS/HAVE been + V + ing.
ex : She's been learning Spanish for 6 years. She must be pretty good!
3) THE PAST PERFECT:
A) How to make it? In the same way as the present perfect, in the three forms, except that the auxiliary is HAD all along.
= subject + HAD + past participle.
B) How to use it?
- It refers to an action which happened before a reference in the completed past.
ex : When she came back from school, she had already learnt her lessons.
ex : The gate had been opened when he arrived home with his new car.
- Thus, it's sometimes used to jumble up the chronological order (narrative past) in order to create flashbacks:
ex : The new mother stopped singing because her baby had fallen asleep.
- The past perfect can also be in the -ing form in order to insist on the duration of the action.
ex : He had been working there for 3 years when he decided to resign.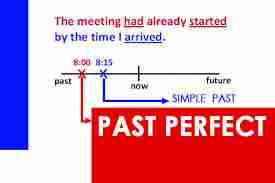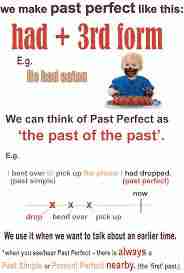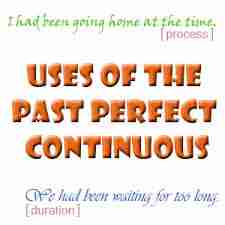 There you are! Be careful, and your results should be excellent !


Twitter Share
English exercise "Choosing your past tense..." created by here4u with The test builder. [More lessons & exercises from here4u]
Click here to see the current stats of this English test



Please log in to save your progress.
---
End of the free exercise to learn English: Choosing your past tense...
A free English exercise to learn English.
Other English exercises on the same topics : | Past | Plu-perfect | Present perfect | All our lessons and exercises