Learn English > English lessons and exercises > English test #109894: Passive Form : step 2


Passive Form : step 2



In the preceding lesson test, we have learnt how to build the Passive Form. We still have to study specific cases, which can be a little tricky. You can do it, I know!... I have promised that we would do it slowly...

PASSIVE FORM:

It is built with the SUBJECT (enduring the action) + the AUXILIARY of the passive (BE) in different tenses and/or modes + the PAST PARTICIPLE of the verb.

The student was punishedi (by the teacher.) = The student was punished (by the teacher)

= subject V in the ACTOR (he acted) = Subject + BE + past participle . ACTOR

enduring passive introduced by: BY

the action.

In the passive form, the active Predicate (complement) is becoming the passive SUBJECT? The person who's doing the action endured by the subject is the ACTOR, introduced by BY. . The 'actor' is seldom mentioned in English (except if its omission makes the sentence difficult to understand.)

ex: Nobody obeyed the teacher. => The teacher wasn't obeyed.



1)

The Prepositional Passive

: some 'little words', prepositions

or

adverbial

particles follow the verbs and change their meanings

. These verbs can be built in the

passive, and then, the verbs must NEVER be separated from their particles.


ex : He was a funny boy, made a lot of faces and people laughed at him. => He made a lot of faces and was laughed at.

2) Many verbs followed by an infinitive proposition (tell, ask, advise, expect, forbid, hate, need, order, prefer, wait for) may be put in the passive form .

ex : She was forbidden to use her dictionary during the test.

BEWARE !


In the active form, to make, to see, to hear are built with an infinitive without to ; in the passive, they are built with to:
ex : They were made to clean the mess they had made!
3) A few verbs are really troubling the learners : to believe, to think, to say, to know, to understand –
a) A personal structure:
A personal subject + verb in the passive + to-infinitive.
ex : He is thought to be an expert - She was said to be an extraordinary singer.
b) An impersonal structure:
it + verb in the passive + that ...
ex : It is believed that the burglars had accomplices in the bank.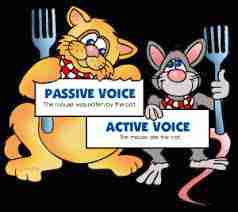 Now, we've seen many of the difficulties of the passive form... One more lesson, and you'll know EVERYTHING !
Don't be troubled ... It's easy, once you know what to do !


Twitter Share
English exercise "Passive Form : step 2" created by here4u with The test builder. [More lessons & exercises from here4u]
Click here to see the current stats of this English test



Please log in to save your progress.
---
End of the free exercise to learn English: Passive Form : step 2
A free English exercise to learn English.
Other English exercises on the same topics : Speaking | Passive voice | All our lessons and exercises