Learn English > English lessons and exercises > English test #110185: Vocabulary: Sea animals


Vocabulary: Sea animals
Our suntans have not faded yet... Many of us have been spending time at the seaside, facing the sea, IN the sea, immense, powerful and mysterious. Kids have spoken of enormous fishes swimming by them, and we stared, wondering what and "who" was living in the immensity and the abysses of "the Big Blue"... Here are some of its inhabitants...
Among all the sea animals that I'm going to show you here, some are big, even huge, gigantic and ferocious... I have seen the first 8 ones quite closely and can say they are all extremely beautiful, elegant, touching, in a way...
Paradoxically, there is a ninth one I detest, and that I would really like to be exterminated (that's bad... but that's how it is!

)! Here is the one I hate the most... It can be found everywhere, on our beaches, in our seas and oceans, warm or chilly, even in Norway where that animal adapted itself to the cold of the sea... It's beautiful, it's even splendid... but it's terrible when it strokes your skin... After 3 stings, I have become allergic to the venom it gives... If it passes by me, it can easily send me to hospital...

and yet, what beauty !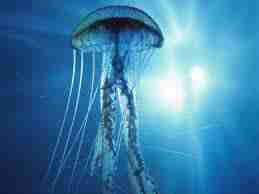 A jelly fish
Others are more massive and rare and they don't come close to our shores. Some are playful and lovable, others impressive and frightening... but once again, for most, their beauty can't be denied...

| | | | |
| --- | --- | --- | --- |
| | | | |
| A white whale | Orcas or killer whales | Sharks | Dolphins |
| | | | |
| A seal | A sea lion | A sea turtle | Penguins/Auks |
Do you know the difference between seals and sea lions? The latter ones have external ears, visible and sensitive ones. In captivity, they obey and answer their trainers and act like real clowns ...

As for the following sea animals, they can be met easily... Some of them carefully stay at the bottom of the sea, and live among algae or sea weeds but may fall prey to divers, others venture to rocks, on beaches and are very vulnerable, particularly at low tides.
| | | |
| --- | --- | --- |
| | | |
| A sea eel | A crayfish/a crawfish | A crab |
| | | |
| Prawns / Shrimps | A cuttlefish | A star fish |
| | | |
| A spider crab | A sea-horse | An urchin |
| | | |
| A scallop | An oyster/Oysters | Mussels |
After looking at them, I am sure you'll agree with me to say that, whether at the cinema, in an aquarium or in the wild for those who were lucky enough to catch a glimpse of it, the most beautiful one, the funniest, and the most lovable of all is the following...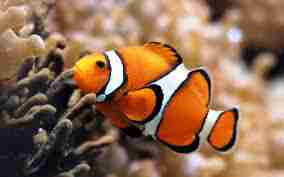 The clown fish ... and if you look carefully, you might recognize Nemo ...



Twitter Share
English exercise "Vocabulary: Sea animals" created by here4u with The test builder. [More lessons & exercises from here4u]
Click here to see the current stats of this English test



Please log in to save your progress.
---
End of the free exercise to learn English: Vocabulary: Sea animals
A free English exercise to learn English.
Other English exercises on the same topics : Animals | Find the word | Nature | All our lessons and exercises