Learn English > English lessons and exercises > English test #111399: They're / Their / There / There's / Theirs


They're / Their / There / There's / Theirs
They're/ Their/ There/There's /Theirs
If the apostrophe -s / 're is always a tricky point for beginners, and even for quite a great number of natives, especially young people, the problem here is to know how to interpret this apostrophe and what auxiliary it represents. The problem is quite acute, especially when the learners are writing.
1. THEY'RE : is the reduced form of THEY ARE.
- Look at the kids ! They're so happy to play together! (they're = they are : verb to be.)
- Of course they are... They're playing in the snow. (


Short answers are never reduced => « Yes, they are ! » ; they're playing = they are playing = the auxiliary "to be" which is used to build the present in –ing.)
2) THEIR : a) is the possessive determiner (adjective) 3rd person of the plural. It is placed before a noun.
- My parents refuse to lend me their car.
b) If it is followed by the sound –S, it may be the possessive pronoun (= similar to the possessive adjective + noun )
- Just because it's theirs, they don 't want to share it.


of the possessive pronoun + the verb "to be":
- Mine is green, but theirs is blue.
3) "THERE'S" may be a part of the expression THERE IS / THERE ARE/ THERE + auxiliary. (this expression can be formed with every tense and every auxiliary.)
a) If THERE'S is followed by a nominal group [(determiner + adjective) + Noun), it is the contraction of THERE IS
- There's a strange noise coming from the engine...
b) If "THERE'S" is followed by BEEN, (the past participle of the verb "to be"), it's a part of the expression THERE IS in the present perfect...
- There's been a huge accident and the road is closed for now...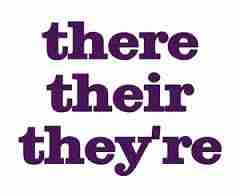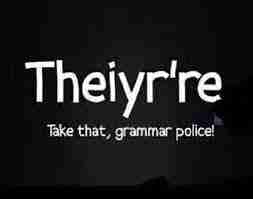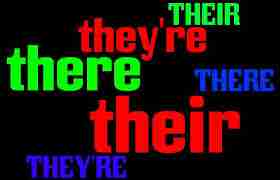 Well well ! That's it!

Time to confront your knowledge and my little test ! Good luck!



Twitter Share
English exercise "They're / Their / There / There's / Theirs" created by here4u with The test builder. [More lessons & exercises from here4u]
Click here to see the current stats of this English test



Please log in to save your progress.
---
End of the free exercise to learn English: They're / Their / There / There's / Theirs
A free English exercise to learn English.
Other English exercises on the same topics : BE, HAVE, DO, DID, WAS... | Frequent mistakes | Pronouns | All our lessons and exercises