Learn English > English lessons and exercises > English test #113476: Vocabulary: let's drive carefully...


Vocabulary: let's drive carefully...
An aspect of life in society touches almost everyone and is most important for our future and our children's. It is "being able to drive or cycle", knowing the rules of the road. Road signs are progressively standardized so as to be understood in the whole world.
BEWARE! In some countries, you have to drive on the left hand-side of the road, which is still quite difficult for many people.)
In schools, children are taught the importance of these rules of the road, of the obligations and restrictions they HAVE TO respect at the risk of getting penalties: fines/tickets), having their driving licence suspended or cancelled or even imprisonment. Each driver has in mind, I hope, that the ultimate punishment is death, (the driver's or other people's...), which, alas, is much too frequent on our roads because of reckless driving...

Here is the "basis" of these rules, which is common in the whole world. The colours of the signs are being generalized with "great trends": red = used for what is forbidden; white= to give neutral information; green= information concerning roads and itineraries; blue= information concerning motorways and obligations; yellow= any indication about works on the road, detours, or any particular danger.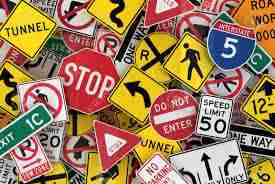 A driving licence /driver's license is delivered in very various ways in the different countries or states. Seldom does it have a permanent duration (it must be renewed every time you change addresses or states in the USA, and when you reach 70 in Great Britain, etc.) Once acquired, your licence may be suspended, cancelled and even revoked, then possibly reinstated. There's a system of negative points kept on a driver's record, punishing infractions/offences proportional to their seriousness. There are also "limited driver's licences" given during a suspension (so as to enable the drivers to go to work).

An example: test
A little important "technical" vocabulary:

| | | | |
| --- | --- | --- | --- |
| Speed limit | = you can't drive faster | A one-way road/street | = there's only one direction |
| Yield/ Give way | = let vehicles go before you | A detour | = a temporary change of road |
| To evade police control | = a refusal to obey orders | A hit and run | = running away after an accident |
| A helmet | = a protection on the driver's head | A warning-jacket | = a very visible jacket |
| A zebra (-crossing) | = a place for pedestrians to cross | Traffic lights | = lights at junctions |
| Green, amber, red | = the three colours of traffic lights | To jump the lights | = to advance when red |
| DUI= Driving Under Influence | = influence of alcohol or any drug | Failure of car insurance | = not having a car insurance |
| Dead end | = leads nowhere | To have the right of way | = you may go |
Here are a few signs forcing you to read a little...
| | | |
| --- | --- | --- |
| | | |
| Roundabout | Give way | Caution (children playing) |
| | | |
| Share the road | No entry | Road work ahead |
| | | |
| Speed hump/ bump/ ramp | Dangerous turn, reduced speed | Entrance to a Motorway |
Elementary precautions on the road:
1) Never drink and drive
2) Avoid distractions
3) Avoid drowsiness
4) Always wear a seat belt
5) Stay calm (no "road rage"

)
6) Behaving responsibly behind the wheel
The rules of the road, carefulness and sobriety, are fundamental and must be taught even more at school, and respected by the young generation (and the older ones). It's an educational problem. Our kids' future lives depend on it. Please, repeat these rules and help them be known. It's a real challenge... a vital one!




Twitter Share
English exercise "Vocabulary: let's drive carefully..." created by here4u with The test builder. [More lessons & exercises from here4u]
Click here to see the current stats of this English test



Please log in to save your progress.
---
End of the free exercise to learn English: Vocabulary: let's drive carefully...
A free English exercise to learn English.
Other English exercises on the same topics : Speaking | Cars | Journeys | All our lessons and exercises