Learn English > English lessons and exercises > English test #114597: Vocabulary: gems and silver


Vocabulary: gems and silver
In Richard II, (Act II, Scene 1) through John of Gaunt's words, Shakespeare qualified England as:
« This precious stone set in the silver sea »
This quote came back to my mind and gave me the idea of writing to you about precious stones and silver!
A lot of vocabulary and expressions (idioms), are linked to these words! Some of them are concrete, others are much more abstract or figurative.

I) Precious stones (gems) as a whole, then a few precise ones:





Gems= precious stones

the Gem State = Idaho


You're a real gem!

= You're really extraordinary!
Abstract meanings of "precious stones" (gems), are often expressed very differently in French...
Listen to this gem!

= Listen to this funny mistake!


This painting is the gem

of the exhibition!


= This painting is the masterpiece


of the exhibition.

You have a gem

of a husband!


= Your husband is extraordinary!

An architectural gem


= An architectural treasure.


1) Diamonds: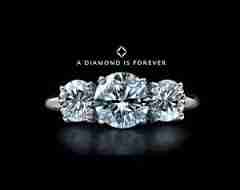 THE KING OF GEMS = A DIAMOND
"Diamonds are forever" = eternal!






Rough diamonds

= uncut diamonds

A diamond necklace

Ace of diamonds




A diamond lane

= a reserved lane


Diamond Wedding

= 60 years of marriage.


Diamond Jubilee

= 60 years of reign/ marriage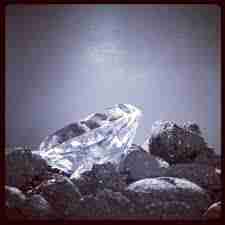 He's a diamond in the rough= though he has qualities, he looks and is still a bit uncouth.
2) Emeralds, sapphires and rubis...


An emerald

A sapphire

A ruby






Emerald green

= the colour of an emerald


Sapphire blue

= the colour of a sapphire


Ruby-red lips



The Emerald Isle= Ireland


A Sapphire sky

= a sky as blue as a sapphire


a Ruby wedding (40 years)

II) SILVER!
| | | |
| --- | --- | --- |
| | | |
| Born with a silver spoon in his mouth | A silver bullet = a miracle solution. | ... brought on a silver platter... |
| | | |
| The silver = silverware | To be silver-tongued | Speech is silver but silence is gold ! |
| | | |
| The silver screen | Every cloud has a silver lining * ... | A Silver wedding anniversary = 25 years |
* = There's always something positive behind an ordeal...

At times, finding "the silver" is not easy...

but if we try, and try again, we'll manage!

When you have found it, then, try your luck with the test!


Twitter Share
English exercise "Vocabulary: gems and silver" created by here4u with The test builder. [More lessons & exercises from here4u]
Click here to see the current stats of this English test



Please log in to save your progress.
---
End of the free exercise to learn English: Vocabulary: gems and silver
A free English exercise to learn English.
Other English exercises on the same topics : Banks, money | Colours/Colors | Idioms | All our lessons and exercises