Learn English > English lessons and exercises > English test #116990: Vocabulary: sharing a flat


Vocabulary: sharing a flat
Already developed for a long time in the United States and in Great Britain, it's been made famous and attractive for young people thanks to TV series watched all over the world: FLAT-SHARING (

, please, French-speaking people, not

collocation

, but flat-sharing!) is thriving and becoming extremely fashionable even in small university towns in Europe.
Exorbitant rents, low incomes for students and young couple, and a desire to leave the parents' homes have boosted this new phenomenon which enables young people to have more room and more comfort at reasonable prices.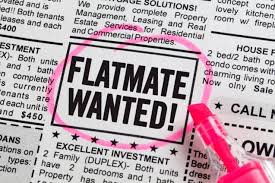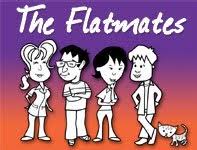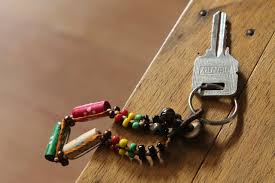 Why share a flat?
- It's a great way of finding comfortable accommodation...
- It enables you to share costs...
- Some students/ people can't afford to live on their own...
- It's an opportunity to meet interesting people/ learn about other lifestyles.
- You're never lonely/ isolated.
- It's a step/ stage between living with your family and living on your own.
I) Looking for accommodation): basic vocabulary.
| | |
| --- | --- |
| To let a room | to pay a rent |
| To rent a room -> rental | an accommodation |
| To share a flat | a roommate/ a flatmate |
| To be available | the landlord/ a tenant |
| To make an excel chart | a lease |
| To accommodate | a deposit |
| To sign an agreement/ a contract | the council tax |
| To include | a phone rental |
| To take turns | a schedule |
| I can't afford to pay... | the household products |
| The ground rules (basic rules) | the housework |
| Within walking distance of... | a kitty= common money |
| To split the bills | a slob= a dirty, lazy person |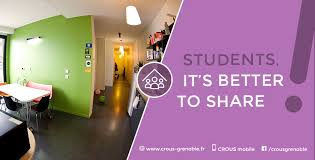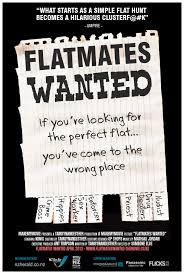 II) What you should ask during the "interview" .
I've read/ I've heard that you have a room available in your flat
I saw your ad on the accomodation website/ on the notice board
How many flatmates/ roommates are there?
Do I have to sign a flat-sharing agreement with the landlord?
Is there a deposit?
When do we pay the rent? When is the rent due?
Is the flat within a walking distance from the university?
What about buying food/ household products?
May we have overnight guests?
Do we take turns with housework?
III) Inventing a way of "LIVING TOGETHER": some rules to apply and strictly respect.
"My freedom ends where another person's begins"... ("What's freedom for the pike is death for the minnow"/ "My right to swing my fist ends where your nose begins") This saying is common sense, and well known by elders. Most of the times, it's taught to the following generations, but it's put at a great risk when confronted to rugged individualism, often even brazenness and sometimes the blatant lack of civic-mindedness of some people. In a community, these rules and the certainty of their respect are a PRIORITY, if not, the ambiance soon begins unlivable.
If the rules are not respected by all flatmates, here are some examples of inevitable situations...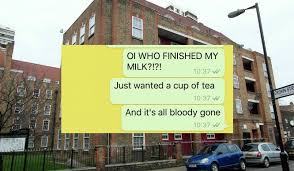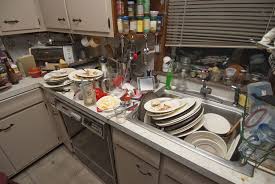 How can "this wonderful idea" work harmoniously?
There's the dream, the ideal image you're imagining, the plans, the "resolutions" confronted to... human Nature and the usual daily routine: disorder, messy, lazy and thoughtless flatmates, a lack of meticulousness, individualism and selfishness... All this may create tensions among the little community. Then post-it-remarks are exchanged, and reproaches, retaliations, "battles" jeopardise this generous idea.
Some systematic and realistic rules, accepted by everyone, may avoid such tensions.
Making an excel chart in order to assign the different chores is often the best solution to make sure every flatmate understands the necessity to respect the basic housekeeping rules and complies with them. Here are a few links where people who have experimented different methods of sharing the chores give their opinions about them. I had quite a lot of fun reading some...

https://www.myfirstapartment.com/2005/11/roommate-agreement-checklist
https://www.une.edu.au/__data/assets/pdf_file/0004/9544/share-house-tip-sheet.pdf
http://www.apartmenttherapy.com/equal-cleaning-for-all-tips-for-splitting-chores-with-roommates-renters-solutions-167941

: in an ad: Double room Incl Bills £ 175 pw= Room for two people, including bills, £ 175 per week. /
£ 650 pcm= 650 £ per calendar month.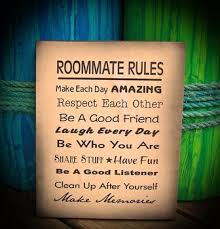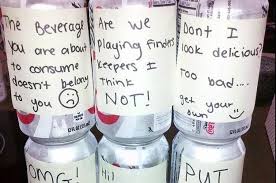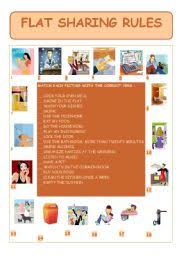 These are "passive-aggressive notes"; we can feel the aggressiveness which is here, still restrained...



A few elementary rules:
- Clean common areas/ amenities.
- Respect boundaries.
- Avoid making noise late at night (or early in the morning)
- Agree on some BASIC RULES.
- Consider your flatmates' feelings and needs...
- Don't expect others to...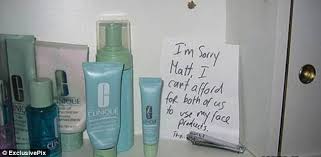 and help...


everyone, including yourself to have a happy life and feel "at home"...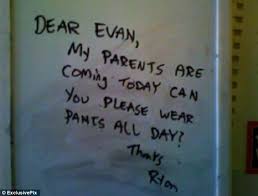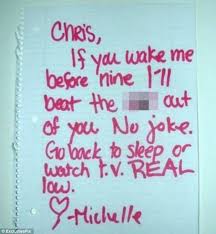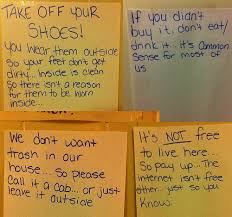 Irritation and annoyance can be felt in these "kind notes"

...

I had a lot of fun working for this lesson...


I hope it will still give you ideas and a few tips to try this wonderful adventure...

Now, here is the test... I GIVE YOU THE FORCE...

Twitter Share
English exercise "Vocabulary: sharing a flat" created by here4u with The test builder. [More lessons & exercises from here4u]
Click here to see the current stats of this English test



Please log in to save your progress.
---
End of the free exercise to learn English: Vocabulary: sharing a flat
A free English exercise to learn English.
Other English exercises on the same topics : Frequent mistakes | The house | All our lessons and exercises