Learn English > English lessons and exercises > English test #118295: Vocabulary: asking, giving or refusing permission.


Vocabulary: asking, giving or refusing permission.
When you're well-bred, you very often have to ask for permission in order to interact with other people. This, of course, is mostly true for kids who cannot, (alas!

), live as they'd like to; yet, even adults have to get permission, sometimes. Besides, we may even be refused the permission we so badly wanted. What's sure is that "you can't always get what you want"!


Therefore, here are different ways of asking permissions, of granting them or refusing them. Be careful, once again, to use the different levels (or registers) of language which are suitable to a situation and to the people you're talking to. These registers cannot be used indifferently.
I) HOW TO ASK FOR PERMISSION?
1. First, polite, or formal requests:
* using "Do you mind/ "Would you mind if + verb phrase"/ possessive adjective+ gerund" :
A verb phrase= subject+ verb; a gerund is a NOUN built from a verb + -ing.
- Do you mind if I smoke in this room?
- Would you mind if I smoked in this room? ("smoked" is the modal past indicating an unreal action- at the moment, I don't smoke! The action isn't real: it's imagined.)
- Do you mind my smoking in this room? ("my smoking"= the action of smoking = :pgb/ "me smoking"= :pus )
* using "it's possible" + infinitive:
- Would it be possible (for me) to bring my own computer?/ Is it possible for me to bring...? = less formal.
* using the verb TO APPROVE OF: = is formal.
- Would you/ Do you/ approve of my delivering the speech? ("me delivering..."= :pus)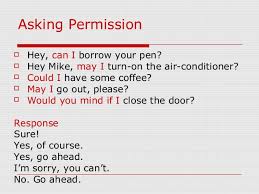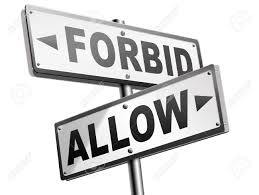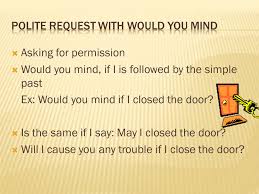 II) More common, less formal:
- Do you think I could give a Power Point for next week's presentation?
- Would you let me work in groups, please? ( to let somebody DO something)
III) Using the MODAL auxiliaries CAN/ COULD and MAY:
In order to ask permission, or to grant one, the modal auxiliary to use is MAY and a form which is a sort of substitute TO BE ALLOWED TO:
- Please, Mom, may I go to my friends' party next Saturday?
- Yes, you may go to your friends' party provided you leave when I go to pick you there.
In everyday contemporary English, it has become very frequent to use CAN/ COULD to ask for permission.

Yet, CAN may often be considered as rude and harsh. (Prefer the use of COULD.)
- Could I please work on that project with the other team?
Yet, depending on the persons you're speaking with, and on circumstances...
- Is it OK if I meet you at the cinema at 4?/ Can we meet at the cinema at 4?
* To BE ALLOWED TO= to have permission to/ to have the right to...
- Students are not allowed to smoke in High School. = Smoking isn't allowed at school for students.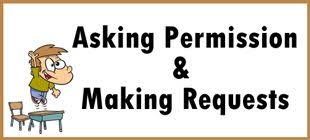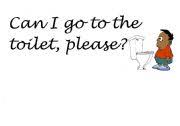 IV) How to GRANT or REFUSE PERMISSION:
1) Granting permission:
- Sure!/ Go ahead!/ Go right ahead!/ Not a problem!/
and a little more formal:
- Of course you may!/ Please, feel free to do it!/ It would be my pleasure...
2) Refusing/ denying permission.
- I need to say "NO"/ It's completely out of the question!/ Don't even think about it! = a strong refusal.
- Sorry, but I'd rather you didn't do that!/ I'm afraid that's not possible!/ I'm afraid I'd prefer if you didn't...
- Unfortunately, I must say/ I need to say/ "no"!
Well well! Now, you have all the main expressions to use in the above conditions. You must be ready to face the test.

Don't be afraid, it isn't difficult, and I give you the FORCE!



Twitter Share
English exercise "Vocabulary: asking, giving or refusing permission." created by here4u with The test builder. [More lessons & exercises from here4u]
Click here to see the current stats of this English test



Please log in to save your progress.
---
End of the free exercise to learn English: Vocabulary: asking, giving or refusing permission.
A free English exercise to learn English.
Other English exercises on the same topics : Idioms | Politeness | All our lessons and exercises