Learn English > English lessons and exercises > English test #118382: If clauses - Beginners


If clauses - Beginners
In French and in English, a verb used in the preterite does NOT always tell about a past action, which is totally finished. The verb in the preterite may also express wishes, or imagined and dreamt facts, which happen to be impossible to realise, or are simply unreal. Expressing "the UNREAL" is far fom being easy for all learners, natives or foreigners. There are three different forms of "unreal mode", three successive steps of possibilities or probabilities. In this lesson for beginners, we'll only study what is "possible" (or potential) and the unreal of the present. The third form (the unreal of the past) will be studied in another lesson.
Let's compare:
- Last summer, I spent my summer holiday in Turkey, on heavenly beaches. = an event referring to a past event which is completely over.

- if I had enough money, I'd spend my holiday in palaces.= here, the event isn't realised (and may never be!). It is a wish, a dream, a thought expressed in the conditional and in the modal preterite belonging to the "unreal mode".

The modal preterite of "to BE" is WERE all along, especially in written English and in formal conversations.
- If I were you, I'd answer him right away. = I can NEVER be "you"...=> the verb must be in the preterite.
IF CLAUSES: What's POSSIBLE (or POTENTIAL) and the UNREAL of the present:

a) A realisable supposition: what's POSSIBLE or POTENTIAL : If the condition is fulfilled, the action will be possible and realised.
- If he asks me, I'll help him.
- If we make the cake now, it will be ready before the party.

If + present => Subject + future
in the conditional in the main clause
subordinate
The action isn't realised yet, but it is possible, it's a POTENTIAL action=> IF + present => subject + will + verb base.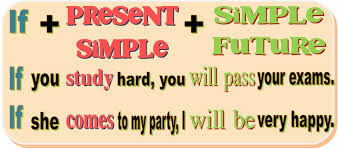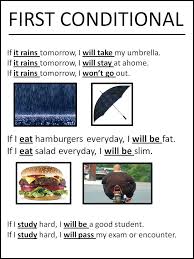 b) The unreal of the present:
The supposition is expressed in the modal preterite (which indicates the UNREAL mode). The action is possible, but not realised yet. The « condition », considered as unreal, is expressed in the conditional.
Its possible realisation is expressed in the present conditional: IF + MODAL PRETERITE=> Subject + would + verb base.
- He'd give me all I need if I asked him for help.
- If he asked me, I'd (= would) help him: (he hasn't asked yet... UNREAL mode...)

If + modal preterite=> Subject + present conditional
in the subordinate would + verb base
in the main clause

The action, which isn't realised, is still realisable. The main cause may come first, or in the second position: it changes nothing.
There you are... ready to express your desires and suppositions... I'm sure you'll do great!

Go for it!


Twitter Share
English exercise "If clauses - Beginners" created by here4u with The test builder. [More lessons & exercises from here4u]
Click here to see the current stats of this English test



Please log in to save your progress.
---
End of the free exercise to learn English: If clauses - Beginners
A free English exercise to learn English.
Other English exercises on the same topic : Conditional and hypothesis | All our lessons and exercises