Learn English > English lessons and exercises > English test #123414: Negatives and semi-negatives


Negatives and semi-negatives
One of the grammatical constructions which is often mistreated by students - and even by some natives - is the negative one - because of the temptation of a double negation. A single verb can only have ONE NEGATION. This "mistake" is quite shocking and indicates carelessness when speaking. It can even betray a "deficit" in education...

That's why you should be very careful when tempted to use this form. I hope this lesson will help you!

ONLY ONE NEGATIVE STATEMENT IS POSSIBLE IN A SENTENCE: therefore, if there's already one negative item, (never, nobody, neither ... nor, etc.), the verb MUST BE put in the affirmative form. Therefore, a choice must be made: verb in the affirmative + negative statement // OR // verb in the negative + affirmative statement.
- I never smoke! et non pas I don't never smoke!/ Nobody's perfect./ I drink neither gin nor whisky.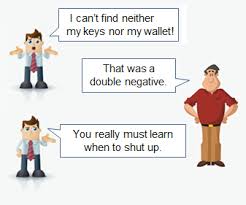 1)

When the verb is in the negative form we mustn't use NO and its locutions, but ANY and its locutions
- I don't know anybody in this party, but I'll have fun anyway... (I don't know nobody)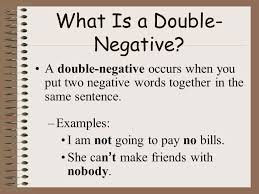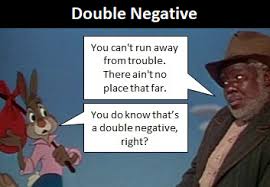 2) HARDLY, (= only just, almost not, with little likelihood) is semi-negative. The different elements in the sentence must be in the affirmative. So do SCARCELY, RARELY, BARELY; they have a negative meaning, 'only just' (also with a temporal meaning), SELDOM...
Rarely, scarcely and seldom are more common in writing than in speaking.
- There's hardly anything good in the fridge. (and not "There's hardly nothing...")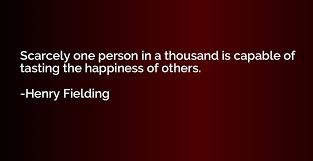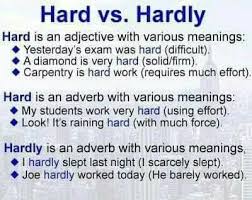 When the language should be more formal, or in order to insist, hardly, scarcely or barely can be put at the beginning of the sentence. Then, there must be an inversion of the subject. (Be careful of the construction: Barely.... when... ) "semi-negative word + auxiliary + subject + verb + WHEN/ THAN..."
- Hardly had she arrived when/than he ordered her out of the room...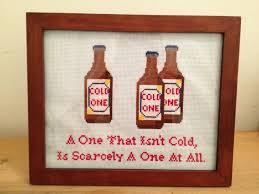 * Seldom= rarely.
- We very seldom eat in Indian restaurants: the food is too spicy for me...
- Seldom do we eat in Indian restaurants... is more formal.

After WITHOUT, negative items mustn't be used.
- I found the way to your house without any difficulty.
Therefore, as you could notice, there's after all only ONE RULE TO RESPECT: never use two negatives in the same clause... If you do, they will contradict each other and will make a very big mistake!
You only have to respect this important rule in the following test! Go for it!


Twitter Share
English exercise "Negatives and semi-negatives" created by here4u with The test builder. [More lessons & exercises from here4u]
Click here to see the current stats of this English test



Please log in to save your progress.
---
End of the free exercise to learn English: Negatives and semi-negatives
A free English exercise to learn English.
Other English exercises on the same topics : Adverbs | Negation | All our lessons and exercises