Learn English > English lessons and exercises > English test #126098: Vocabulary: anger


Vocabulary: anger
Anger, (one of the 7 Capital Sins!) is an intense emotional state involving a strong response to a perceived provocation, frustration, hurt or threat. It has physical or psychological effects. It can (and must!) be controlled. It's a moment of crisis. It triggers a "fight" or "flight" response. We face it more and more often in our daily lives...
😥
ANGER: a strong feeling of displeasure or rage; wrath.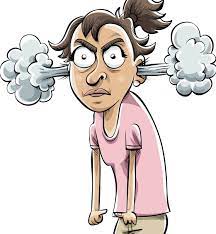 An outburst of anger...
To be angry with somebody at something
To be cross with
Cross/ crossly/ angrily
An outburst of anger/ a fit of anger
Angrily/ in anger
To make somebody angry/ to anger somebody
To get angry/ to lose one's temper
To throw a tantrum
Peeved with/ sore with
Irascible/ irascibility
To throw a tantrum...
- To take one's anger out on somebody/ to vent one's anger on somebody
- To be mad at somebody: to be very angry with somebody
- To get mad at: to become greatly irritated, enraged.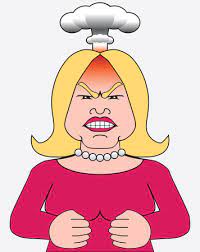 She's incensed...
Fury
Furious/ incensed/ infuriated
To infuriate somebody/ to incense somebody
To madden somebody/ to drive somebody mad
Infuriating/ maddening
Rage/ To fly into a rage
To enrage somebody
Overwrought
Irate/ wrathful (formal)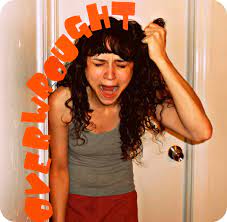 She's overwrought.
- To fly into a rage
- To be in a rage/ to fume (with rage)
- To be in a blind rage/ in a towering rage
- To be wild at somebody/ with somebody
- To have a fit of rage
- To be beside oneself with rage
- To blow one's top: (to explode)
- To fly off the handle
- It makes my blood boil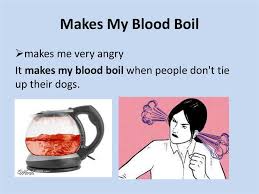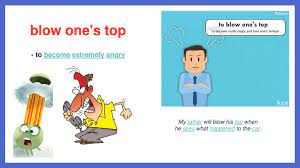 (If you want to go further... go and work on another lesson: aggressiveness and hostility: test
Let's hope this lesson won't have "incensed" you... Stay calm to face the test: it shouldn't be too upsetting!


Twitter Share
English exercise "Vocabulary: anger" created by here4u with The test builder. [More lessons & exercises from here4u]
Click here to see the current stats of this English test



Please log in to save your progress.
---
End of the free exercise to learn English: Vocabulary: anger
A free English exercise to learn English.
Other English exercises on the same topics : Making portraits, describing | Idioms | Find the word | All our lessons and exercises