Learn English > English lessons and exercises > English test #126121: Vocabulary: aggressiveness and hostility


Vocabulary: aggressiveness and hostility
If you simply cast a look at the pictures in this lesson, you'll soon notice that we are dealing with negative feelings just as we did, studying ANGER in test. Let's hope you won't need such violent vocabulary too often!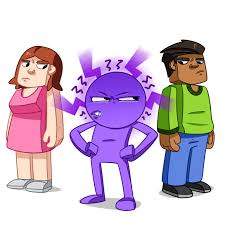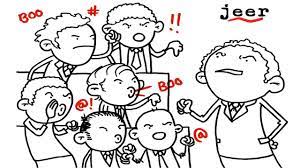 unfriendly to jeer
| | |
| --- | --- |
| Unfriendly | : not friendly |
| Spiteful/ malicious | : showing malice, malevolent, spiteful |
| Spitefulness/ malice | : a desire to inflict harm to others |
| Rancour | : hostility, spite |
| Grudge | : feeling of ill will or resentment |
| Resentment | : displeasure or anger because of a wrong. |
| To resent something | : feeling you're insulted or wronged |
| Animosity towards | : strong hostility or antagonism |

FALSE FRIEND: mischievous: teasing, playfully annoying // mischievousness.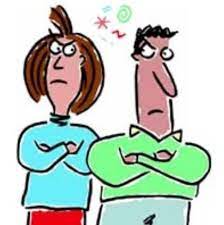 - To bear somebody a grudge for something: to resent something.
- To be resentful of something: feeling displeasure because of a wrong.
- There'll be some aggro: aggressiveness, trouble, agitation.
- To threaten somebody with something: to menace.
Resentment is a poison...
Brutal/ brutality
Aggressive/ aggressiveness
An aggression
Hostile to/ hostility
A threat/ a menace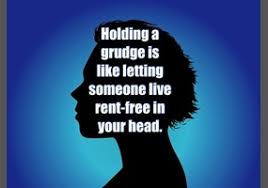 To threaten
: to menace
To insult somebody
: to speak insultingly
To abuse somebody
: to treat in a harmful way
Abusive
: coarse language or maltreatment
A swearword/ an oath/ a curse
: a taboo insulting word or phrase
To curse somebody/ something
: to wish or evoke evil
To swear at somebody
: to use obscene or profane language

To snap at somebody

To bite somebody's head off

: to become unable to control oneself

To scoff at somebody

To poke fun at somebody

To mock somebody

: to treat with ridicule or contempt
Mockery
: contempt or derision
Ridicule/ to ridicule
: make fun of

To jeer at somebody

To gibe at somebody

To sneer at somebody

: to utter mocking words
A jeer/ a gibe/ a sneer
: mocking words
An enemy/ a foe
: a hostile opponent
An opponent
: an adversary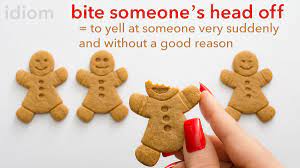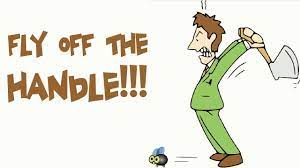 Let's always try to keep control... It's become more and more important.
I hope the following test will keep you in good temper! Thanks for your work!


Twitter Share
English exercise "Vocabulary: aggressiveness and hostility" created by here4u with The test builder. [More lessons & exercises from here4u]
Click here to see the current stats of this English test



Please log in to save your progress.
---
End of the free exercise to learn English: Vocabulary: aggressiveness and hostility
A free English exercise to learn English.
Other English exercises on the same topics : Making portraits, describing | Idioms | Find the word | All our lessons and exercises