Learn English > English lessons and exercises > English test #126449: Preposition: "to" or "no to" - 1/3


Preposition: "to" or "no to" - 1/3

Welcome!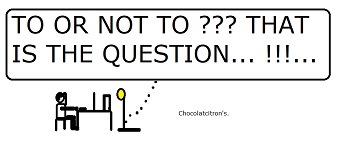 "TO" OR NOT TO ??? :lol That is the question... !!! ...
I) When should I use "to"?
➡️ 1) Infinitive forms: to dream, to eat, to hear, to learn, to live, to see, to smell, to walk, to work, etc.
➡️ 2) Goals:
One must have learnt the alphabet first, to know how to read in English, Spanish, French, German, Italian, and so on.
➡️ 3) Time:
It's ten to six p.m.
It's twenty-four to.
➡️ 4) Destination:
I sent a letter to my friend.
➡️ 5) Active / Passive voice:
Examples :
To bring, to buy, to forgive, to give, to lend, to offer, to open, to owe, to pass, to pay, to promise, to read, to sell, to send, to show, to teach, to tell, to write, etc.
-- Active voice:
Every day, I give my cat some meat.
Every day, I give some meat to my cat. (COD puis COI).
-- Passive voice:
a) Everyday, some meat is given to my cat.
b) Every day, my cat is given some meat.
➡️ 6) Moves:
It takes me eight hours to get to your place!
➡️ 7) Proportions:
"Our team won four to three.
You need 100 grams of dry couscous to 150 grams of water...
➡️ 8) Comparisons:
Most of my friends think that humans are not superior to animals or plants : a life is a life and must be respected : we are all different but we are alive and sensitive with our own specificities, and tools.
Compared to the neighbourhood, this small garden is the most beautiful, the most lively and the most greenest I have ever seen here !
Comparé au voisinage, ce petit jardin est le plus beau, le plus vivant et le plus verdoyant que j'ai jamais vu ici !
➡️ 9) Belonging:
This key opens the door: here is the key to the door.
Nobody knows the answers to all questions and will never know them.
---
II) When "to" is not needed:


➡️ 1) Modal:
can, could, should, may, might, must, shall, will, would.
➡️ 2) Let : to let sb do sth.
Alexis let me play with his Lego.
➡️ 3) With "home":
To drive home, to go home, to go back home, to ride home, to run home, to turn back home, to walk home, etc.
While he was riding home, he had an accident.
➡️ 4) Adverbs of location:
abroad
anywhere , everywhere , nowhere , somewhere
downtown , uptown
downstairs , upstairs
here, there
inside , outside
underground
---
👨‍🎓 Click on the correct answers.
Good luck!

Twitter Share
English exercise "Preposition: "to" or "no to" - 1/3" created by chocolatcitron with The test builder. [More lessons & exercises from chocolatcitron]
Click here to see the current stats of this English test



Please log in to save your progress.
---
End of the free exercise to learn English: Preposition: "to" or "no to" - 1/3
A free English exercise to learn English.
Other English exercises on the same topics : Movements | Prepositions | All our lessons and exercises