Learn English > English lessons and exercises > English test #127820: Using: to suggest


Using: to suggest
Pay great attention to the verb «to suggest»! It is «transparent» but deceives French speakers
- and perhaps others - pushing them to imitate its construction! Traitor!


There are several ways to build a correct sentence using «to suggest».
This verb is used with a noun phrase (or a noun), a «that-clause», with a verb in the -ing form,
or a WH- question word (where/ what/ when/ how/).
What a story!

It's somewhat complex, indeed!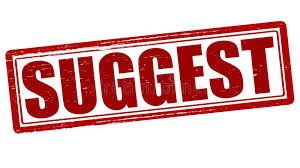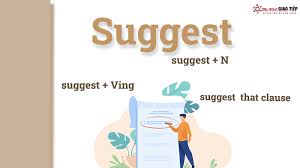 1) Suggest + noun/ a noun phrase: the noun phrase can be the direct object of "suggest":
- "I suggest a cold drink and a snack; let's make it quick, we're already late!"
-> To mention the person who receives suggestion, use the preposition «to»:
- "I suggest a takeaway coffee to you! That will be quicker!"
BUT NOT : I suggest you a takeaway coffee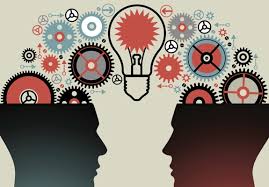 2) Suggest + «that-clause».
To express a suggestion, a «that-clause» is frequently used.
In informal discussions, the pronoun «that» is often omitted. In formal English,
in the past, the modal auxiliary «should» can be used (especially in American English).
To suggest+ (that)+ subject+ (should)+ subjonctive:
The subjonctive has the same form as the infinitive without the particle to, (the bare form).
- I suggest you go to work by car today. That will be quicker.
- Paul's doctor suggested he should exercise more...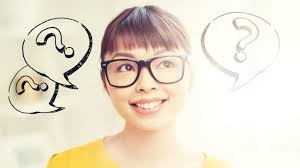 3) To suggest+ V-ing: when the subject is included in the action:
- He suggested going for a walk, which was a very good idea!
4) To suggest+ WH-question word... such as "where","what", "who", "how"...
- Could you suggest where I might buy a second-hand scooter?
- Can anyone suggest how we might attract more volunteers?
As you have seen, we have resisted the temptation of using an infinitive clause!
Keep in mind that "suggest" cannot be followed by an infinitive clause.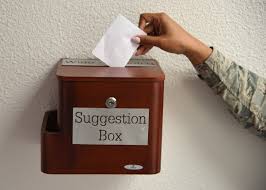 ... and go for the test!


Twitter Share
English exercise "Using: to suggest" created by here4u with The test builder. [More lessons & exercises from here4u]
Click here to see the current stats of this English test



Please log in to save your progress.
---
End of the free exercise to learn English: Using: to suggest
A free English exercise to learn English.
Other English exercises on the same topics : Idioms | Subjunctive | Suggesting | All our lessons and exercises