Learn English > English lessons and exercises > English test #14562: Traditions about the New Year


Traditions about the New Year
> L'ARTICLE: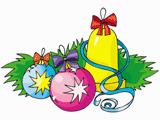 NEW YEAR TRADITIONS

> RESOLUTIONS: Popular modern resolutions might include the promise to lose weight or quit smoking. New Year's resolutions date back to the early Babylonians: the early Babylonian's most popular resolution was to return borrowed farm equipment.
> PARADES: The 'Tournament of Roses Parade' dates back to 1886. In that year, members of the Valley Hunt Club decorated their carriages with flowers. It celebrated the ripening of the orange crop in California.
The tradition of using a baby to signify the new year was begun in Greece around 600 BC. It was their tradition at that time to celebrate their god of wine, Dionysus, by parading a baby in a basket, representing the annual rebirth of that god as the spirit of fertility. Early Egyptians also used a baby as a symbol of rebirth.
> LUCK: Traditionally, it was thought that one could affect the luck they would have throughout the coming year by what they did or ate on the first day of the year. For that reason, parties with friends or the family often last into the middle of the night after the ringing in of a new year. It was once believed that the first visitor on New Year's Day would bring either good luck or bad luck the rest of the year. It was particularly lucky if that visitor happened to be a tall dark-haired man.
> FOOD:
Many parts of the U.S. celebrate the new year by consuming black-eyed peas. These legumes are typically accompanied by either hog jowls or ham. Black-eyed peas and other legumes have been considered good luck in many cultures. Cabbage is another 'good luck' vegetable: cabbage leaves are also considered a sign of prosperity, being representative of paper currency.
> AULD LANG SYNE:
The song, 'Auld Lang Syne' is sung at the stroke of midnight in most English-speaking countries to bring in the new year. At least partially written by Robert Burns in the 1700's, it was first published in 1796 after Burns' death.

Twitter Share
English exercise "Traditions about the New Year" created by webmaster with The test builder
Click here to see the current stats of this English test



Please log in to save your progress.
---
End of the free exercise to learn English: Traditions about the New Year
A free English exercise to learn English.
Other English exercises on the same topic :
Celebrations: Thanksgiving, new year...
|
All our lessons and exercises