Learn English > English lessons and exercises > English test #17636: Speaking


Speaking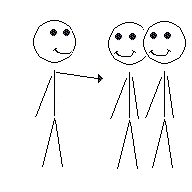 Expressing agreement

-Yes it is / I am / I can / he may ...

-I (quite) agree (with you .....)

-I couldn't agree more!

-That's right. You're right!

-Of course. Certainly.

-Yes I think so.

That's a good idea.

-Sure / ok / It's ok by me.

That's correct.

-I'm all in favour of that.

I'm 100% in agreement with you.

-Agreed! / All right!

Expressing disagreement

-No (it isn't / I'm not / I can't ...)

-I (flatly / totally) disagree.

-I don't agree (with you ...)

-I'm afraid, I can't agree with that.

-That's not right. That's incorrect.

-Certainly not!

-I don't think so.

-Ridiculous! / It's ridiculous!

-I can't accept that.

-I don't see it that way.

-I don't see eye to eye with you on that.

-No way! Nothing doing!

-I'm strongly against this decision / interpretation ...

Inquiring about agreement

or disagreement

-Do you agree (with me ...)

-Don't you agree?

-Do you think so (too)? / Don't you think so?

-How do you feel about it? / about the suggestion? ...

-Are you for or against it?

-Wouldn't you say that it was so?

-Have you made up your mind yet?

Giving an opinion

-(personally) I think/ believe/ feel/I'd say... (It's all right/...)

-I don't think they should do that / say so / ...

-As far as I can see (you're wrong / it's not possible ...)

-In my opinion (they're right / it's difficult ...)

-If you want my opinion ...

-I'm convinced that ...

-As I see it ...

-To my eyes ...

-To my mind ...

-This is how I see things..

-From my point of view...

-I consider him / her (to be) a good teacher / a bad ...

Asking for an opinion

-What do you think about / of (it / that story / ...)

-What's your opinion of (what they've done / dogs /...)

-Are you in favour of (that idea / Bridget / ...)

-What is your personal / own view?

I'd like to know your opinion about / of ...

-Could I know what you think of (that lesson / those people)

-Do you have any comment about / of ...?

-Are you convinced it's true / it's important ...

-We'd be happy to have your opinion.

Expressing deduction

-It was too late so / therefore I couldn't catch the tram.

-You must have (made a mistake / forgotten something :...)

-That is necessarily true / false / ...

-By deduction we can't say that ...

-So, you were tired / happy / disappointed ...

-As a result / consequently ...

-Due to / On account of the circumstances ...

-I've been brought to think that( we should start earlier / we ought to do otherwise / ...)

-Therefore / so we have to stop now / everything is wrong / ...

Cause and consequence

-I did it because (I wanted to/ it was fun / it was necessary :...)

-That's (the reason) why (they were late / he couldn't come / ...)

-What was the real cause of ( the accident / being late / ...)

-As a consequence ...

-Owing to the fact that ...

-Given the situation / the fact / ...

-Due to (bad weather / an accident / the circumstance /...)

Twitter Share
English exercise "Speaking" created by bridg with The test builder. [More lessons & exercises from bridg]
Click here to see the current stats of this English test



Please log in to save your progress.
---
End of the free exercise to learn English: Speaking
A free English exercise to learn English.
Other English exercises on the same topic : Speaking | All our lessons and exercises