Learn English > English lessons and exercises > English test #3273: Living in the woods


Living in the woods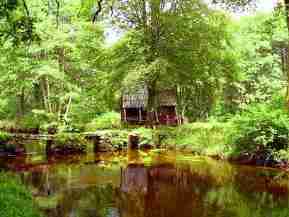 Living in the woods.
By Luke Sanders
Children's express
Michigan Bureau
Can Do
The Sanders family lives in the middle of the woods, in the Upper Peninsula of Michigan. John, Victoria and their two sons Brynn, 16 and Lake, 14 live in a log cabin they built about 13 years ago.
The Sanders aren't a typical American family. They live without a lot of things many people consider necessary. They don't have running water. They use water from the spring for drinking and cooking. They only go into town once a week to buy things like milk. "For the electricity, we have a water generator in the river. It is very efficient. We could have lights and TVs, and computers if we wanted", said Lake… But they have no computer, no TV, and even no telephone. "To pass the time we play music, we read books a lot. We don't really miss TV", explain Brynn.
How do they keep in touch with friends without a phone? " It works out pretty well" said Lake. When we see a person, we make plans for the next time. And our parent's friends are like our friends too", he added.
The two boys are home schooled. They like it better that way. "I think I'm lucky because I can do things that most people can't. Instead of going to school, we go to work with my dad on construction sites" said Lake. "We build guitars; we do things that are really important to us. I'm doing correspondence courses with a school in Chicago," said Brynn.
Will the boys continue this lifestyle as adults? "Probably, even if we have electricity and running water," said Brynn. "We are used to it" added Lake.
Complete the following sentences with words from the text.





Twitter Share
English exercise "Living in the woods" created by bridg with The test builder. [More lessons & exercises from bridg]
Click here to see the current stats of this English test



Please log in to save your progress.
---
End of the free exercise to learn English: Living in the woods
A free English exercise to learn English.
Other English exercises on the same topic : USA | All our lessons and exercises