Learn English > English lessons and exercises > English test #35145: Months of the year


Months of the year
 --January 1st 
  New year's fireworks 2008 in Taipei (Taiwan)
                                                    It is one of the rare fireworks on skyscrapers in the world.
--February 15th                           'Flag Day' in Canada
                     It is the shortest month , 29 days in leap years
--March 15th 44BC assassination of Julius Caesar   
            
--April  
    William Shakespeare was probably born on  April 23rd 1564 ,    
 he was baptised on April 26th 1564 and died on  April 23rd 1616.
--May
  The council of Europe has celebrated its founding on May 9th 1949 as 'Europe Day' since 1964.
--June
In the northern hemisphere the summer solstice occurs on dates
varying from June 20th to June 22nd.            
These days are the longest of the year.                  Saint Jean fires
--July              It was named after Julius Caesar who was born on this month.
--August       In many European countries August is the holiday for most workers.
--September   World War II began on September 1st 1939 with Adolph Hitler's invasion of Poland.
--October       British admiral Nelson was killed at Trafalgar on October 21st 1805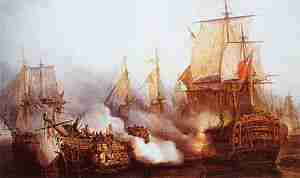 --November   All Saints' Day is a feast celebrated on November 1st in western christianity in honour of all saints.
                                  painting by Fra Angelico 
--December    New Year's Eve is on December 31st the final day of the year
New year's Eve in London

Twitter Share
English exercise "Months of the year" created by lili73 with The test builder. [More lessons & exercises from lili73]
Click here to see the current stats of this English test



Please log in to save your progress.
---
End of the free exercise to learn English: Months of the year
A free English exercise to learn English.
Other English exercises on the same topic : Dates, days, months, seasons | All our lessons and exercises