Learn English > English lessons and exercises > English test #4019: Antarctica


Antarctica
Geography: Antarctica is the icy continent at the South Pole. It is covered by permafrost (permanently frozen ground), is surrounded by water, and is about 1 1/2 times larger than the United States. The world's largest desert is on Antarctica. 98 percent of the land is covered with a continental ice sheet; the remaining 2 percent of land is barren rock. Antarctica has about 87% of the world's ice.
Climate: The South Pole is the coldest, windiest, and driest place on Earth. The coldest temperature ever recorded on Earth was at the South Pole; it reached -128.6°F (-88.0°C)! On average, most of Antarctica gets less than 2 inches of snow fall each year.
People: Although scientific expeditions visit Antarctica, there are no permanent human residents (because of the extreme weather, which includes freezing temperatures, strong winds, and blizzards). There are about 4,000 seasonal visitors to Antarctica.
Location: Antarctica hasn't always been located at the South Pole. It has drifted, like the other continents, and has ranged in location from the Equator (during the Cambrian period, about 500 million years ago) to the South Pole. During the time of the dinosaurs (the Mezosoic Era about 65 million to 248 million years ago), Antarctica was more temperate and home to dinosaurs and many other life forms. Now, there is very little indigenous life.
Exercice : Répondez aux questions suivantes :
Ex : Is Antartica a hot continent ? No, Antarctica is an Icy Continent.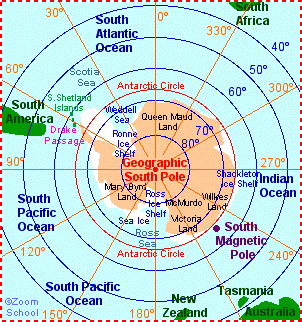 Twitter Share
English exercise "Antarctica" created by anonyme with The test builder.
Click here to see the current stats of this English test



Please log in to save your progress.
---
End of the free exercise to learn English: Antarctica
A free English exercise to learn English.
Other English exercises on the same topic : Geography, history, politics, literature... | All our lessons and exercises