Learn English > English lessons and exercises > English test #4412: The Giant Panda


The Giant Panda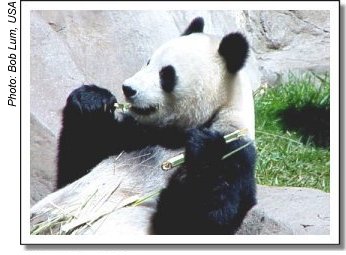 Bai Yun feeding ('Bai Yun' = 'White Cloud')
( San Diego Zoo )
'About Bai Yun ...'
'Bai Yun has been spending increasing amounts of time out of the den, away from her cub. This is a completely normal and expected change in her behavior. Keep in mind that in the wild, the bears don't have keepers available to them to bring their food close by, offering them nutritious biscuits and vegetables along with their bamboo. Instead, wild pandas must forage for extensive periods to meet their caloric needs. Bamboo is not a nutrient and calorie dense food.
Does a panda cub suffer when mom is out of the den for a long time? No. In fact, the cub will benefit. Why? Because lactation, the process by which the female produces the milk to feed her offspring, is an energetically expensive endeavor. It takes a lot of calories to produce good milk. If mom doesn't spend enough time away from the den feeding, she risks developing poor milk quality, or worse… she could stop lactating all together. It is critically important that the female feeds herself well while the cub is exclusively dependent upon her for it's food source.'
Bai Yun's baby was born on August, 2nd 2005.

Twitter Share
English exercise "The Giant Panda" created by anonyme with The test builder.
Click here to see the current stats of this English test



Please log in to save your progress.
---
End of the free exercise to learn English: The Giant Panda
A free English exercise to learn English.
Other English exercises on the same topic : Animals | All our lessons and exercises