Learn English > English lessons and exercises > English test #88089: Infinitive phrase


Infinitive phrase
David, where are you?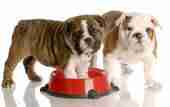 I want David to feed the dogs.

I want David to feed the dogs
main clause infinitive clause

I want him to feed the dogs

| | | |
| --- | --- | --- |
| | | |
| Dad asked the children not to be so noisy. | | Do the teachers expect me to read all these books? |
When should you use an infinitive clause?

After these verbs:
want , order , oblige , force, forbid ,
hate , like , love , prefer, wish , cannot/can't bear ...
The policeman ordered the driver to stop.



He wants us to sing.
encourage, invite , advise , warn, tell , ask,
beg, require , persuade , urge , implore, expect
His parents warned him not to go into the house alone.

teach, allow , enable , permit , remind , help
Remind me to buy a loaf of bread tonight.

Infinitive clause: passive voice
My friend told me to come in.
I was told to come in by my friend.

The teacher asked him to listen.



He was asked to listen (by the teacher).
For + infinitive clause




A result to achieve
The teacher has given a long exercise for the children to do.




It is impossible for him to lift that weight.

After 'it is' and a few adjectives
(hard, difficult, important, impossible, vital, natural...)

It was difficult for Fred to learn Chinese.


After wait
I'm waiting for you to give me an answer.


Twitter Share
English exercise "Infinitive phrase" created by lili73 with The test builder. [More lessons & exercises from lili73]
Click here to see the current stats of this English test



Please log in to save your progress.
---
End of the free exercise to learn English: Infinitive phrase
A free English exercise to learn English.
Other English exercises on the same topic : Infinitive | All our lessons and exercises