Learn English > English lessons and exercises > English test #92945: Phrasal verbs


Phrasal verbs
Examples
Look out! There is a bus coming.
I came across a strange creature yesterday.
The Space Shuttle Challenger blew up in 1986.
to give

IS DIFFERENT FROM


to give up
Useful particles to build phrasal verbs: out, across, on, with, up, out, down, by, over, round, through, along, behind...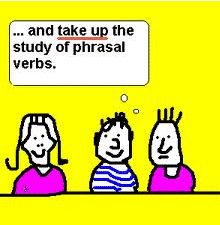 Take up
to sit down

Please sit down to relax a while, and have
a cup of tea.


She is doing sit-ups. (Gymnastics)

to sit up


1. To rise from lying down to a sitting position.

2. To sit with the spine erect.

to run past)

These men run past Tower Bridge.

to ride back

After shopping, Lucy rides back home.
to pour down

It has been pouring down all day long.

to die out

Giant Pandas are dying out.

to eat up

You're not going out until you've
eaten up your dinner.

to tidy up

David! I want you to tidy up
your room at once.
to put out

The fireman is trying to put out the fire.

to take after

Does this boy take after his father?

to make out

Can you make out the plane through
the fog?

!

to fall through

Heavens! All my plans are falling through.
A phrasal verb can have several meanings
to make out
(to discern)

(to understand)

(to manage)

Blow-up


to blow up
(to explose)

(to enlarge)
Not always the same particle

Put
Look
to put away
to look after
to put by
to look ahead
to put off
to look back
to put on

to look for (sb/sth)


to put out
to look up
to put up
to look forward to
The children are looking forward to Christmas.





John is looking forward to seeing his friend Bob again.

How to get on with a difficult boss!

Twitter Share
English exercise "Phrasal verbs" created by lili73 with The test builder. [More lessons & exercises from lili73]
Click here to see the current stats of this English test



Please log in to save your progress.
---
End of the free exercise to learn English: Phrasal verbs
A free English exercise to learn English.
Other English exercises on the same topic : Particles | All our lessons and exercises