Learn English > English lessons and exercises > English test #9944: Little Thumb by Charles Perrault


Little Thumb by Charles Perrault
L
i
t
t
l
e
T
h
u
m
b
by Charles Perrault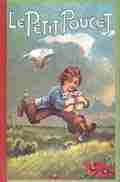 Once upon a time there lived a woodcutter and his wife; they had seven children, all boys. The eldest was but ten years old, and the youngest only seven. People were astonished that the woodcutter had had so many children in such a short time, but his wife was very fond of children, and never had less than two at a time

They were very poor, and their seven children inconvenienced them greatly, because not one of them was able to earn his own way. They were especially concerned, because the youngest was very sickly. He scarcely ever spoke a word, which they considered to be a sign of stupidity, although it was in truth a mark of good sense. He was very little, and when born no bigger than one's thumb, for which reason they called him Little Thumb.

The poor child bore the blame of everything that went wrong in the house. Guilty or not, he was always held to be at fault. He was, notwithstanding, more cunning and had a far greater share of wisdom than all his brothers put together. And although he spoke little, he listened well.

There came a very bad year, and the famine was so great that these poor people decided to rid themselves of their children. One evening, when the children were all in bed and the woodcutter was sitting with his wife at the fire, he said to her, with his heart ready to burst with grief, 'You see plainly that we are not able to keep our children, and I cannot see them starve to death before my face. I am resolved to lose them in the woods tomorrow, which may very easily be done; for, while they are busy in tying up the bundles of wood, we can leave them, without their noticing.'

Read the short extract of Charles Perrault's tale.
Then, write TRUE or FALSE for every sentence !!!
Good Luck !


Twitter Share
English exercise "Little Thumb by Charles Perrault" created by anonyme with The test builder.
Click here to see the current stats of this English test



Please log in to save your progress.
---
End of the free exercise to learn English: Little Thumb by Charles Perrault
A free English exercise to learn English.
Other English exercises on the same topic : Tales | All our lessons and exercises