Learn English > English lessons and exercises > English test #114673: Vocabulary: moving one's body


Vocabulary: moving one's body
For our body to be healthy, but also because we have to, out of obligation or pleasure, we move our bodies. When we awake and even sometimes when we are asleep, our body makes many movements.
These movements are numerous and varied. They may be spontaneous reflexes or, on the contrary, very voluntary and requiring effort. They're often made in answer to some emotions or feelings, but are also a means to express oneself or to change places. Almost every part of our bodies can move.

Our bodies are moving, or our bodies are at rest...

To get up (from one's bed)

To lie down => lying

To sprawl






To sit up

To stand up

To stand = to be standing




To lose one's balance= to fall

To bend


To crouch

(the woman is crouching)


To shrug

To turn around

To hop

Pay attention to two verbs (and to two movements) that learners tend to mix up regularly:
- to NOD implies a vertical movement of your head and means «yes ».
On the contrary, to SHAKE ONE'S HEAD conjures up a horizontal movement from left to right and means « no».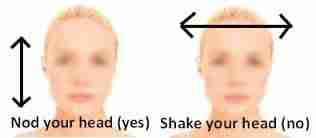 Your head may, sometimes, replace words, and so may other parts of your bodies: if you shrug, you may either express your ignorance, but your indifference too, which is very rude. Therefore, do try to avoid this gesture or if you can't refrain, say a few words to make the gesture more explicit and less rude.

As we're going to see in the following table, our arms and hands express many varied reactions and feelings or may replace or accompany many different words and shouts.
| | | |
| --- | --- | --- |
| | | |
| To turn one's head= yuk! | To wave | To jump |
| | | |
| To dance | To sway one's hips | To hug |
| | | |
| To raise one's hand | To fold one's arms | To shake hands |
| | | |
| To point at someone | To click one's fingers | To clench one's fists |
| | | |
| To clap one's hands | To shudder in horror | To shiver |
Thanks to all those gestures, and to all those words, you may communicate better, which is the aim of a language.

Let's do the test, now... You'll see it's quite easy! Good luck!



Twitter Share
English exercise "Vocabulary: moving one's body" created by here4u with The test builder. [More lessons & exercises from here4u]
Click here to see the current stats of this English test



Please log in to save your progress.
---
End of the free exercise to learn English: Vocabulary: moving one's body
A free English exercise to learn English.
Other English exercises on the same topics : Human body | Idioms | Movements | All our lessons and exercises