Learn English > English lessons and exercises > English test #118098: Concession: Despite or Although


Concession: Despite or Although
In that past week, some very motivated Advanced Learners showed me that when it comes to expressing concession, the use of DESPITE and ALTHOUGH shouldn't be taken for granted... In order to help them (and all of you at the same time), here's a focus of what you should know and remember!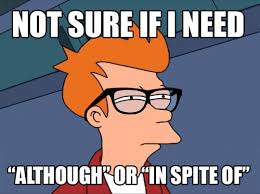 I) DESPITE/ IN SPITE OF + Noun Phrase/ Noun/ Pronoun:
The preposition DESPITE is followed by a NOUN PHRASE.
( Careful!


"despite" is never followed by « of ».)
The noun phrase may be:
* a determiner + (adjective) + noun;
* a pronoun (remplacing a noun) [a demonstrative pronoun: this/ that/ these /those - an indirect interrogative pronoun (what)]
- He didn't pass his exam despite his regular work.
- In spite of what he had promised, (= despite what he had promised), he didn't keep his New Year's resolutions.
- She went to school, despite the fever she had when she woke up this morning.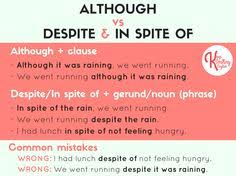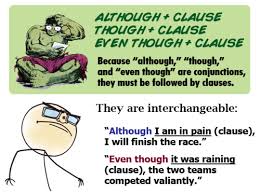 II) THOUGH/ ALTHOUGH +verb phrase/ clause (= subject + verb) ...
The conjunction THOUGH/ ALTHOUGH is followed by a VERB PHRASE.
- He didn't pass his exam although he had worked regularly.
- Paul finished his report, although he was very tired and feeling sleepy.
* As though/ as if...
- Paul answered the question as though he hadn't thought about what he was saying.
* Even though/ even if...
- Even though he had been grounded by his parents, Reed escaped from his home to go to the party.
To sum up: you only have to check the nature of the word after the link word: (although + verb // despite + noun). Easy, isn't it?
Good luck for the test!



Twitter Share
English exercise "Concession: Despite or Although" created by here4u with The test builder. [More lessons & exercises from here4u]
Click here to see the current stats of this English test



Please log in to save your progress.
---
End of the free exercise to learn English: Concession: Despite or Although
A free English exercise to learn English.
Other English exercises on the same topics : Conjunctions | Linking words | Prepositions | All our lessons and exercises