Learn English > English lessons and exercises > English test #119487: Vocabulary: it's hot!


Vocabulary: it's hot!
Very often, under our latitudes, parents tend to worry to make sure that all the family members will be "warm enough", will be feeling well and comfortable. The ideal temperature, for our body is 37°C - 37.5°C (97.9°F to 99.9°F). It conditions our well-being. If it's too high, measures should be taken quickly, since a high temperature may be dangerous for babies, pregnant women, the elderly and people suffering from an immunodeficiency.
| | |
| --- | --- |
| Warm | to be warm |
| In the warmth | to be nice and warm |
| "Are you warm enough?" | it's nice and warm today! |
| To warm up | to get warmer |
| Tepid/ lukewarm | to warm oneself up |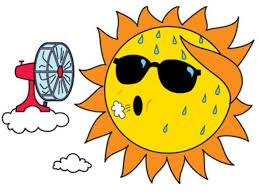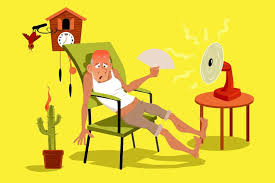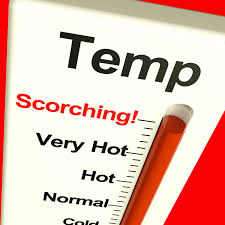 Sometimes, the body temperature goes wild and you're no longer "warm"... but really "hot". (cold => warm => hot)
| | |
| --- | --- |
| It's hot/ sweltering hot | a blazing hot day |
| A heatwave/ intense heat | a heatstroke |
| It's scorching hot | it's stifling! |
| The midsummer heat | "I'm boiling hot!" |
| The dog days | sultry |
| To heat up | it's burning hot! |
| It's boiling hot! | it's piping hot! |
| | |
| --- | --- |
| The temperature/ a thermometer | to fall/ to rise |
| To take the temperature of | it was 30° in the shade |
| In temperatures of over 30° | below-freezing temperatures |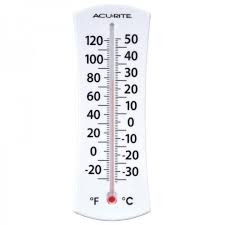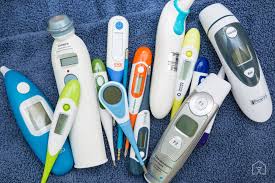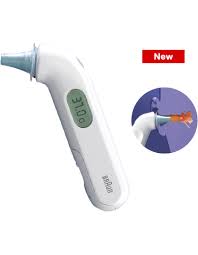 A thermometer Different types of thermometers An auricular thermometer
How to convert Fahrenheit to Celsius: T(°C) = T(°F) - 32) / (9/5) => T(°C) = (T(°F) - 32) / 1.8
How to convert Celsius to Fahrenheit: T(°F) = T(°C) × 9/5 + 32 => T(°F) = T(°C) × 1.8 + 32 (37.5°C= 99.5°F)

A few corresponding measures OF TEMPERATURES:
- 10°F= -23.33 °C/ 0°F= -17.78°C/ 32°F= 0°C/ 50°F= 10°C/ 60°F= 15.56°C/ 80°F= 26.67°C/ 100°F= 37.78°C/ 212°F= 100°C...
How to behave during a heatwave?
1) Ventilate : use fans (hand fans) and bigger and more efficient ones (oscillating fans/ bladeless fans). Air the rooms early in the morning or late in the afternoon.
Fans might work when the temperature is up to 35°C (95°F). Above that, (some studies say at 37°C (98.6°F) or higher), they are dangerous and increase dehydration.)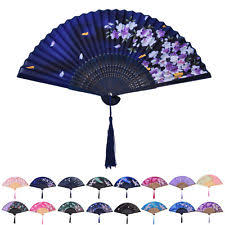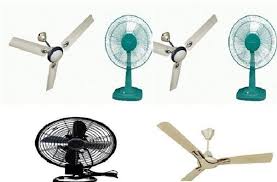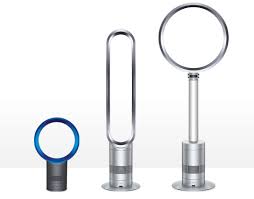 2) Cool down: (drink plenty of water/ stay hydrated); wet your body - face, arms - hair ... and refresh your body (core body temperature) thanks to cool water, ice, and ice-creams, water misters... (reduce the body temperature)
An effective way of reducing your core body temperature is "sweating"; the human body can produce up to two litres of sweat ['swet] per hour. Not to be dehydrated, you should replace those lost liquids.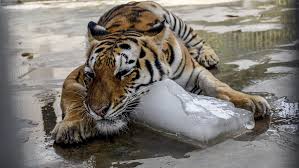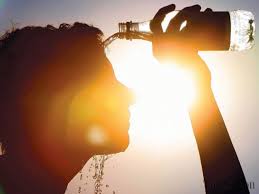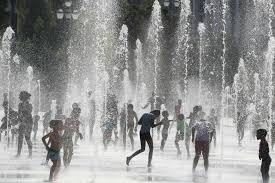 3) Find a cool shelter; stand in the shade. Do not open houses when the sun and temperatures are at the highest. In really hot weather, you should close the windows during the day, since the temperatures are higher outside than inside.
4) Do not drink alcohol; eat enough; check in with isolated and lonely people... Elderly people can become dehydrated more quickly than younger people... Young babies and people with chronic health conditions are more likely to have issues as well. So is anyone with mobility issues.
A few obligations, then, to be able to live correctly in such hot weather... You'd think people are never satisfied, as we keep hearing complaints about the cold, the rain etc.
The cold will be studied in another lesson test