Learn English > English lessons and exercises > English test #125861: Too or Either


Too or Either
One grammatical item seems to be a problem for a lot of learners. It's very easy to identify and solve... Yet, many students that I would call "Advanced" make mistakes there. These mistakes are all the more irritating as they are quite recurrent.

Please... read this short lesson very carefully. Learn the one important point to remember! Then, I promise, you'll never make the mistake again! Deal?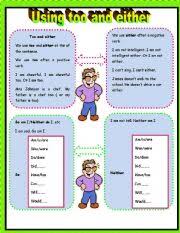 1) TOO: In addition/ also/ furthermore: is used in a sentence in the affirmative form. TOO may be used with a NOUN (or a PRONOUN), with an ADJECTIVE, or with a VERB. What matters is the FORM of the sentence: the affirmative form imposes the use of TOO.
- Sandra plays the piano and she plays the flute too.
- Mollie drinks tea all day long, but she occasionally drinks coffee too.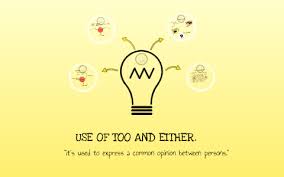 2) Associated with 'not': NOT... EITHER = : => (not) EITHER is used in a negative statement. The negative form may be either on the verb, or on a negative word (ie: never).
- I don't eat fish or meat either. / I never eat fish or meat either.
- He hates fish and he doesn't like meat either!
EITHER may be used with a NOUN (or a PRONOUN), with an ADJECTIVE, or with a VERB. If the verb is in the negative form, EITHER must be used.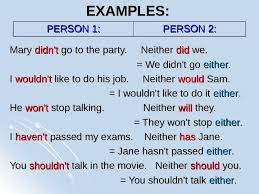 As you can see, the lesson is short, and easy! You simply need to check the form of the sentence (affirmative or negative!)
It's so easy! You can't fail! Thanks for working with me. Go for it!



Twitter Share
English exercise "Too or Either" created by here4u with The test builder. [More lessons & exercises from here4u]
Click here to see the current stats of this English test



Please log in to save your progress.
---
End of the free exercise to learn English: Too or Either
A free English exercise to learn English.
Other English exercises on the same topics : Agreement/Disagreement:Both, so do I, neither do I | Negation | Introducing someone | All our lessons and exercises