Learn English > English lessons and exercises > English test #89560: 13 ways of seeing


13 ways of seeing
13 different ways of looking

to see: to perceive with eyes

You can see a windmill in the distance.

.

to look (at): to turn your eyes towards
something so that you can see it.

Look, a falling star!





to watch: to look attentively,
for a period time, at some activity or event.
(game, television, film...)

bird-watching: observation des oiseaux

At the end of the day, after a long walk,
they sat on a bench and watched the sunset.




to frown: to make an angry expression,
moving your eyebrows together.

He frowned when I told him I didn't believe
what he had said.






to blink: to shut and open your eyes quickly.

The young girl blinked as she came out
into the bright sunlight.




to wink: to shut one eye briefly as
a signal or to show that something
is a joke.

She winked at me and I knew she was joking.






to glance: to take a quick look at
someone or something.

She anxiously glanced around.

to glimpse: to see someone or something
by chance for a very short time.
I glimpsed a figure at the door of the
house.

to gape (at sth. / sb.)
to look for a long time at
something with your mouth open.
The baby gaped in amazement at the
illuminated fir tree.

to stare: to look fixedly at someone or
something.
Don't stare at this old lady like that,
it's not polite.



to peep: to look furtively especially
through small opening.
(while trying not to be seen).

a Peeping Tom (un voyeur)

Somebody is peeping through the blind!


to peer: to look at something or
somebody with difficulty or concentration,
especially when you cannot see it clearly.

With his night vision binoculars Mark
peered into the darkness.


to squint:
to look with your eyes partly closed
He squinted when he looked towards
the sun.
.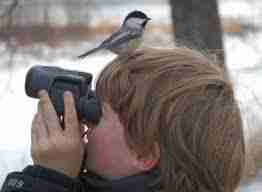 young bird-watcher
young bird-watcher

Twitter Share
English exercise "13 ways of seeing" created by lili73 with The test builder. [More lessons & exercises from lili73]
Click here to see the current stats of this English test



Please log in to save your progress.
---
End of the free exercise to learn English: 13 ways of seeing
A free English exercise to learn English.
Other English exercises on the same topic : Synonyms | All our lessons and exercises